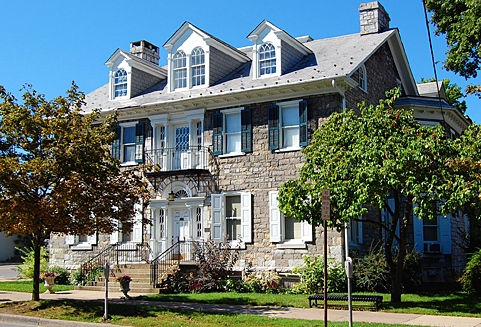 Centre County Library Historical Museum
Celebrate Bellefonte's Victorian history with free guided museum tours throughout the day and hot cider and treats to keep you warm.
Visit Mrs. Claus' Bakery and purchase whole cakes, pies, and batches of cookies for parties and more.
Purchase glass-blown handmade ornaments created by James Byrnes for sale in the Pennsylvania Room.
Listen to live performances by local musicians, featuring the museum's 19th century Steinway grand piano.
Storytime with Mrs. Claus at Noon – stay after for photos with her!
Saturday Dec. 9th- 10am -4pm
203 North Allegheny Street, Bellefonte, PA 16823 • (814) 355-1516
Bellefonte Knights of Columbus
The Bellefonte Knights of Columbus is hosting an "All You Can Eat Breakfast" to benefit Toys for Tots on Sunday, December 10. Breakfast will be served from 8:30 until noon at the Bellefonte Knights of Columbus Hall; 315 Stony Batter. Anyone bringing in a new unwrapped toy will be admitted FREE. For those who wish to pay for their meal (all proceeds will be donated to the Toys For Tots Program), adult meals will be priced at $8.00, meals for children under the age of twelve years will cost $4.00, and little diners under the age of seven years may eat for free. Buffet Includes: Fresh Waffles, Eggs to Order, Blueberry or Chocolate Chip Pancakes, Bacon, Homefries, Sausage, and French Toast. Gather up your family and friends and come out to enjoy a great breakfast while supporting Toys for Tots!!!  Further Information is available at https://www.facebook.com/events/456523664714759
Festival of Trees
Bellefonte Victorian Christmas welcomes the United Way's Festival of Trees as part of the event weekend. This community event will help usher in the holiday season by transforming CPI into a winter wonderland, with decorated trees, entertainment, food, and Tree Auction. The event takes place Friday through Sunday in partnership with the Bellefonte Victorian Christmas event.
Proceeds will help support  Centre County United Way Partner Agencies.
Friday, December  8th, 4pm-7pm
Saturday, December 9th, 9pm-8pm – Holiday Marketplace  9pm-6pm
Sunday, December 10th, 12pm-4pm – Holiday Marketplace  12pm – 4pm
Central PA Institute of Science Technology, Harrison Road
Adults $2; children $1
A free shuttle for Festival of Trees being held at CPI on Harrison Road will be available at the Bellefonte High School and on the Diamond. Saturday, December 10th. 9am to 6 pm
Bellefonte Art Museum Of Centre County
Local Artist Museum Display & Sales
Local artisans will be displaying and selling their works of art during the month of December. Please stop in and purchase something special for that someone that has everything and loves art.
For more information call 814-355-4280
Open Saturday, December 9th from 9 a.m. to 5 p.m.
Open Sunday, December 10th from noon to 5 p.m.
Bellefonte Art Museum, 133 N. Allegheny St. Free admission
Centre County Library
Used Book sale in the library's "Book Closet" featuring Adult and Children's books, CDs and DVDs. Stop by and purchase gifts for the book lover on your list, or for yourself!
Saturday, December 9th -9am-4pm
Vendor fair for your last-minute shopping needs, including Scarves n' More Duo, LuLaRoe, and more!
Holiday bake sale to benefit Centre County Library. Homemade sweet treats for sale to share or nibble on yourself!
Kids can search the library to find the hidden elf on the shelf for a sweet surprise!
Used Book sale featuring books, CDs and DVDs for children and adults.  Find a favorite title for yourself or pick up a few holiday gifts.  Fill a bag for $5!
Friday, December 8th -9am-5pm
200 North Allegheny Street, Bellefonte, PA 16823 • (814) 355-1516
The Santa Express Returns to Bellefonte  – TICKETS GO ON SALE NOVEMBER 1ST
The Nittany & Bald Eagle Railroad Company (NBER) is donating locomotives, fuel for locomotives, and train crew time In support of the Bellefonte Historical Railroad Society train excursions.
Tickets for Santa Express – Tickets ($10 each) can be purchased at the Train Station in Bellefonte; online by PayPal; by mail (check made out to BHRS) to station (enclose self-addressed, stamped envelope).
Purchase your tickets early, this event sells out every year!
Friday, December 15th, 6 PM & 8 PM
Saturday, December 16th , 10 AM, 12 PM, 2 PM, 4PM & 6 PM
Sunday, December 17th , 12 PM, 2 PM, 4 PM, & 6 PM
The Nittany & Bald Eagle Railroad Company is also donating all of the above for "Fall Foliage" and "Santa Express" Excursions for the Bellefonte Historical Railroad, Check the BHRS website for more information on dates, times, and ticket prices.  Fall Foliage Weekend Rides, October 26th, 27th, & 28th, 2017
For More Information on Fall Foliage & Santa Express excursions go to: www.bellefontetrain.org
Saint John the Evangelist Catholic Church – located at 134 East Bishop Street

Saint John the Evangelist Catholic Church will host an Open House
Sunday December 10th from 2:00 until 5:00 pm.
The 1889 church was recently redecorated and features many of the original pieces from the Victorian era.  On display will be elaborately embroidered Victorian vestments  and altar cloths. Gold and Silver communion vessels, a gold and jeweled monstrance and many pieces of early church history as well as photos of the church through out the past 140 years.  There is a brochure for self guided tours, guides will also be available to conduct tours and answer questions.
Please join us and enjoy this part of early Bellefonte history.
Save the Date 
Bellefonte Victorian Christmas 2018
December 7th, 8th, & 9th