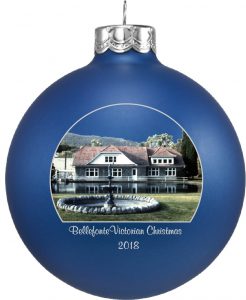 The 2018 Limited Addition Glass Ornament
Featuring a picture of the  current "Big Spring" pump house.   Major William F. Reynolds gave The Big Spring to the town for the price  $1.00 on October 1, 1879.  The spring is still the domestic water source for Bellefonte as well as other communities.
Available for sale at CO2, Plump's Gifts & Drug Store and  Train Station.  Also available the information booth at the YMCA  Arts & Crafts venue Event day 2018.
Cost $16.00
Please also consider …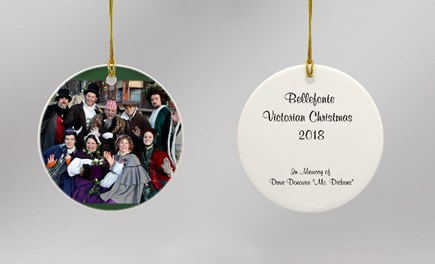 Special Edition 2018 Ornament with all profit to benefit Kathy & Elise Donovan's GoFundMe page in memory of Dave Donovan "Our Mr. Dickens"
Cost $20.00  Additional donations gratefully accepted
A Tribute to Dave Donovan ~ "Our Mr. Dickens"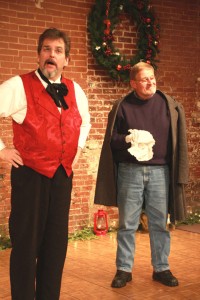 To quote the author you portrayed so well, you have been "as good a friend and as good a man as the good old city knew, or any other good old city, town, or borough, in the good old world."
~Brian Belge (Ebenezer Scrooge)
Dave Donovan, our Mr. Dickens, truly did know "how to keep the Christmas spirit, if any man alive possessed the knowledge." Dave was my friend for many years, and was always kind, generous, quick to laugh and slow to anger, and above all else, was full of love for others. His absence is felt keenly, and his memory warms the hearts of all who knew him.
~Claudia Harrison (Fanny Scrooge)
Dave made people feel like their very existence was a gift.  May we share his devotion to lifting others up.
~Jill Wentzel (Mrs. Fezziwig)
There was never a better Dickens except Boz himself!
~Chris Davis (Topper)
Dave exuded love. Always. even when he might not be feeling his best.   He always acted in love. He was one of the most welcoming people I have ever met and made everyone feel included. He was truly a special person we were blessed to  have in our lives.
~Andi & Adam Gastongua (Mr. & Mrs. Crachitt)
Dave blessed us all with his kindness, gentleness, and wit, but most of all with his love. He loved everyone and was a friend to anyone in need of comfort, wisdom, or even just a smile. Dave will always be, for me, the personification of the true Christmas spirit and his light is dearly missed.
Amy Rauch
~Leslie (The Street Urchin)
Bellefonte Victorian Christmas will not be the same this year without 'Our Mr. Dickens," Dave Donovan. I chose this quote that was  written to those who did not know the man he portrait with such heart…"the general charm of his manner…His laugh was brimful of enjoyment…His enthusiasm was boundless…He was a hearty man, a large-hearted man…a strikingly manly man," a fitting description of Dave who loved us…and we loved him!
~ Sally Houser (For the BVC Committee)