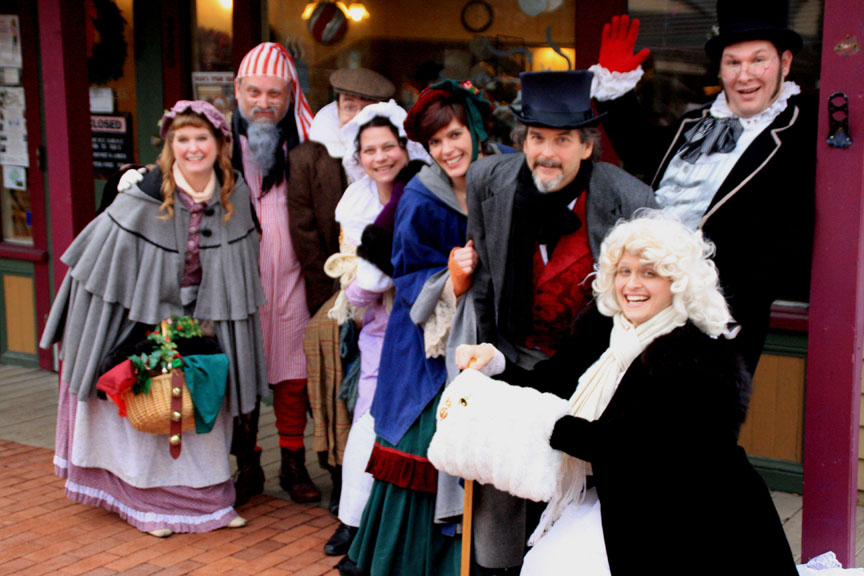 Saturday Evening Gala & Special Entertainment for All
The Brian Belge Dickens Troupe returns, bringing the seasonal magic of
Charles Dickens to Bellefonte Victorian Christmas. You will see the troupe's strolling characters, carolers, and musicians on the streets of  Bellefonte during the event, along with appearances at the Opening Ceremony, Victorian High Teas, the Arts & Crafts Show & the Saturday Evening Gala.
Dickens Strolling Characters, Carolers & Musicians
Mr. Dickens, Ebenezer Scrooge, Bob & Mrs. Cratchit, and the Fezziwigs are coming back to Victorian Christmas, plus many more entertaining characters will be strolling and entertaining on the streets of Bellefonte. Play along as they engage you, the good citizens of Bellefonte and beloved visitors, in various conversations and charitable works. Be sure to hail them and each other with a hearty "Good Day" and a heartfelt "Happy Christmas!"
The Troupe will also be entertaining at the Victorian Christmas High Tea at the Reynolds Mansion, and  the Arts & Crafts Venues.
Gaslight Gala- Attend a Dickens of a Dinner Party!
Mr. and Mrs. Fezziwig Request Your Presence at a Posh Dinner Party with Guest of Honor, Mr. Charles Dickens, Theatrical Producer Brian Belge presents Charles Dickens and Co, a specially assembled troupe of professional performers who portray Charles and his characters for an evening old Old-time Parlor Games, Hilarious Skits, a, heart-warming rendition of Mr., Dickens' "A Christmas Carol", Merry Music and Caroling, the Yorkshire Yawning Contest and of course, the traditional Yule Log Ceremony!
Saturday, December 9th – 6:00pm
American Philatelic Society, 100 Match Factory Place, Bellefonte, PA
The cost is $75 per person, $125.00 per couple or a table of  eight $500.00.   Adults Only please!
Dinner includes Hors d'oeuvres & a delicious buffet catered by Hoag's Catering.
Reservations & Pre-payment Required. Get your tickets early, Seating is limited
For Reservation Visit Helen Fox & Co – 122 S. Allegheny Street
Cash, Check, & Credit Card Reservations –  Call 814-548-7847
Your tickets will be available at your table the evening of the event
Sponsor of  the 2017 Dickens Troupe North Shore & Nittany Bald Eagle Railroad