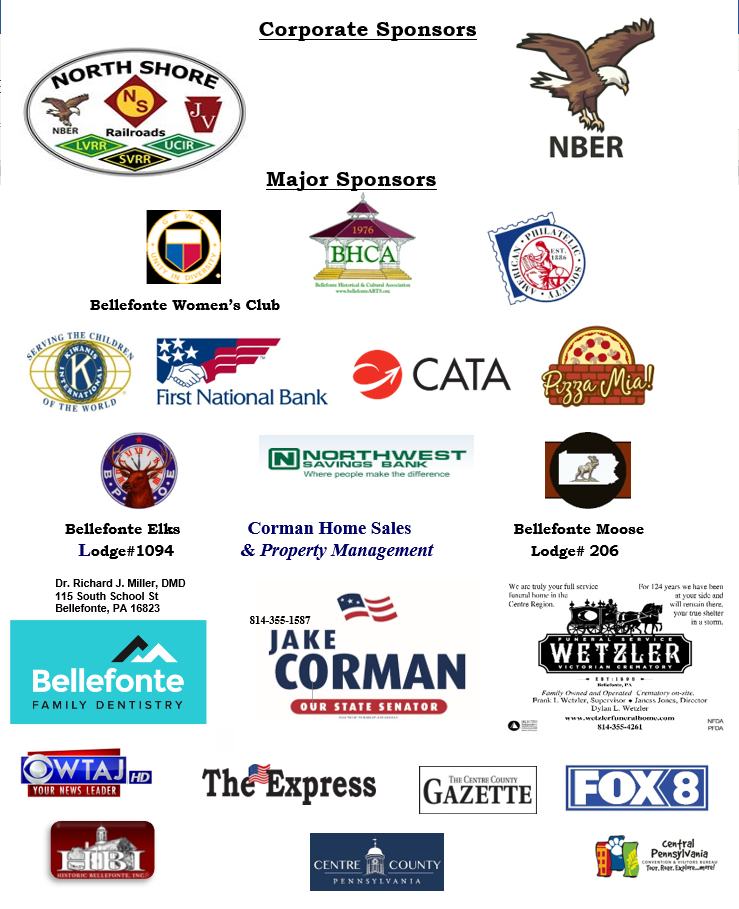 The Bellefonte Victorian Christmas Committee would like to thank:
Bellefonte Police Department
Bellefonte YMCA
Bellefonte Intervalley
Chamber of Commerce
Bellefonte Area School District, Administration, School Board, and Staff
Bellefonte Fire Department and Fire Police
Undine and Logan Fire Stations
Central PA Convention & Visitors Bureau
Centre County Commissioners
Homestead Graphics & Design Studio
Bellefonte.com
Loaded Creative
Seven Mountains Media LLC Station, 3WZ Radio
M&M Copy Service
For providing meals & Housing for Dickens Troupe Performers:
Blonde Bistro
Reynolds Mansion
Diamond Deli
Pizza Mia
Dick & Joann Knupp
Corporate Sponsors
North Shore Railroad Company
Nittany Bald Eagle Railroad
Queen Sponsorship Level – $1100 & Above
Bellefonte Historical & Cultural Association
Bellefonte Moose Lodge #206
Bellefonte Women's Club
Bellefonte Elks Lodge 1094 Garver Fund
Historic Bellefonte, Inc.
Governor's Sponsorship Level – $500 – $1000
American Philatelic Society
Dotts/Hamilton
Corman Real Estate Sales & Property Mgt.
First National Bank of Pennsylvania
Fox8
Fulton Bank
Wetzler's Funeral Service, Inc
WTAJ
Bellefonte Borough
Helen Foxx & Co
HealthSouth
Kiwanis Club of Bellefonte
Northwest Savings Bank
Pizza Mia
Friends of Senator Jake Corman
Fulton Bank
Seven Mountains Media
Diamond Deli
Pizza Mia
Dick & Joann Knupp
2019 Committee Members
Sally Houser, Event Co- Chair, Sponsorships, Publicity
Renee Brown, Event Co-Event Chair, Logistics & Sponsorship Chair
Randi Neshteruk Event Co-Chair, Children's Venue and Activities
Romayne Naylor, Event Co-Chair, Arts & Crafts Show & Concerts
Don Holderman, Opening Ceremony
Cecil Houser, Official Photographer
Debbie Cleeton – Decorating Chair
James Dunne, True Fisher, David Eggler, Arts & Crafts Show Co-Chairs
Karen Arnold, Trinity Concert Chair
Nancy Noll, High Tea Coordinator
Arlene Miller, Janet Kyte, Gingerbread House Contest Co-Chairs
Faith United Methodist Church.
Breakfast With Santa, Don Reed, Chair
Mary Kay Justice, Bellefonte Woman's Club History On Wheels Tour
Joyce Miller – Dinner Ticket Sales Coordinator
The Bellefonte Victorian Christmas celebration would not be possible without the coordination and physical support of a dedicated committee, volunteers, and the financial support of the Bellefonte community organizations, neighbors, friends, businesses and professionals.